This site is the former home of the late James S. Lee, Sr. (pictured left), Morris Canal author and historian. Plan 9 West is located on Rt. 519 1/2 mile south of Route 57 intersection east of Phillipsburg. The address for obtaining directions is 477 County Route 519, Stewartsville NJ 08886.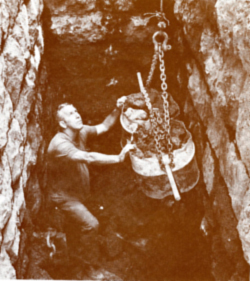 Some facts about Plane 9 West:
Plane 9 West is the longest inclined plane on the Morris Canal (about 1600 feet) with the highest change in elevation (100 feet). The property was purchased by James Lee, Sr., one of the foremost authorities on the Morris Canal.
Another interesting bit about Plane 9 West was that it was a double-track. Two cradles meant that two boats could move at the same time, one coming up, one heading down. The other double-track planes along the Morris Canal were at Port Colden (Plane 6 West) and Newark (Plane 12 East).